About Our Training Model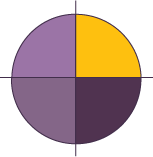 Albert Einstein said, "Everybody is a genius. But if you judge a fish by it's ability to climb a tree, it will live its whole life believing it is stupid". We all have a limitless and innate ability to tap into those strengths and motivations that help us really stand out from the rest; or simply put, to be the best we can be.

You don't have to be an expert driver to decide today, with confidence and commitment, to drive more carefully and keep it up for life.

To think that one type of driver training experience will work for everyone, and for all time, as if we were some kind of machine, is really quite a silly idea when you think about it. Did you know that some types of driver training cause more crashes, not less?

Individual people are driven by, and respond to, ideas that resonate with their natural aptitudes, needs and aspirations.

Our logo represents the idea that any driver can 'target' the areas that they would like to improve on, or leverage off. We don't try to tell you what's right or wrong, good or bad. We just try to "keep it real" and let you know what will help you, and what won't. We use the latest science to give you confidence. Because our approaches are very sophisticated, our instructors need specialist training and skills, so we charge a little more than our competitors. We know you'll understand and be grateful.
Behaviour
"Just tell me what to do"
​Some drivers just want to know what to do. So, on a Low Risk Driving Course, we take to the road and learn how to avoid crashes by managing space and looking for, and anticipating, where a crash might happen; probably not today, but at some time in the future.



Cognition
"There's nothing I can do"
​Other drivers find it hard to understand how they can avoid crashing, particularly when someone else acts dangerously, or breaks the rules. We take a considerable amount of time on a Low Risk Driving to gently, and safely, challenge two specific ways of thinking. "It isn't my fault" and "It's not going to happen to me".



Emotion
"Sometimes I find myself rushing, and I don't know why"
​When you learn to understand what you're feeling and why, you can use this information to monitor your driving, and make changes where you need to. Even though we DO NOT develop these specific competencies on a Low Risk Driving Course, we can design a bespoke program for you, on request.

Spirit
"I like to reflect on what's really important to ​me, in my life"
Broadly speaking, spirituality relates to being connected with something greater than oneself. Spirituality is NOT about religion, however, many people who identify as spiritual may also be religious. If this is you, we understand how and why you ask questions like "What is really important to me?", "Am I on track?", or "What legacy will I leave after I'm gone?". Even though we DO NOT develop these specific competencies on a Low Risk Driving Course, we can design a bespoke program for you, on request.​